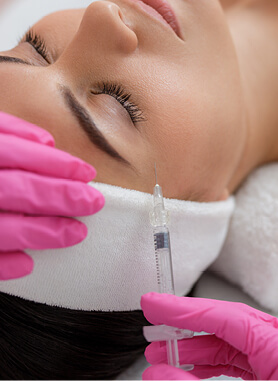 Shed years of aging and stress from your face with cosmetic injectables at Vibrant Med Spa.
Our professionals employ best practices in every treatment plan to ensure you love the skin you're in. We also use well-tested products that produce consistent results.
What is an injectable?
Cosmetic injectables are simple, non-surgical procedures that address a variety of aesthetic concerns. A common list of reasons to use injectables would be to:
Relax facial folds and fine lines
Creating or restoring structure, framework, and volume to face
Contouring the body
Temporarily reduce excessive perspiration
What injectables does Vibrant Med Spa use?
Cosmetic Neuromodulators (aka Neurotoxins)
Dermal Filler/Bio-stimulators
How does it work?
Cosmetic Neuromodulators
When injected, neuromodulators block signals from your nerves to your muscle tissue. This prevents the targeted muscles from contracting which can ease certain muscular conditions and improve the appearance of fine lines.
Dermal Fillers/Bio-stimulators
A dermal filler or bio-stimulator treatment involves a gel-like substance injected into targeted areas of the face with a cannula or needle. This plumps the skin from within and works in place of lost fat and proteins to smooth fine lines and volumize hollow areas.
There are different types of dermal filler substances including:
Calcium hydroxyapatite
Poly-L-lactic acid
Hyaluronic acid
Sculptra® is a bio-stimulator that stimulates collagen production which then reduces fine lines and yields a fresh, more youthful appearance.
For recommendations, we encourage booking a complimentary consultation.
Contouring Injections
Deoxycholic acid is a synthetic form of a naturally occurring molecule in the body that aids in the breakdown and absorption of dietary fat. When injected in small areas of sub-cutaneous fat (such as the under the chin) it destroys the fat cells. Once destroyed, those cells cannot store or accumulate fat. A complimentary consultation is required before treatment to ensure this is a viable option for achieving your goals.
Is it safe?
Yes, we only use injectables cleared by the FDA. Injections are safe and effective for most people when administered by a reputable injector.
What areas can be treated using injectables?
Horizontal/Forehead Frown Lines
Frown Lines
Bunny Lines
Lip Lines
Marionette Lines
Under Eyes
Gummy Smile
Cheeks
Jawline
Teeth Grinding
Neck Lines
Scars
Pockets of subcutaneous fat such as:
What can I expect during the procedure?
Appointment durations vary between injection services. Neuromodulator and Contouring Injections are about 30 minutes while Filler and Sculptra Treatments last 45 minutes.
When you arrive at your appointment, we will:
Take photos before your treatment for our treatment record.
Have you make certain facial expressions and movements to determine the best injection points as well as review what injection formulas will be best for your body.
We will cleanse the skin, mark the treatment site, and then place tiny injections directly into the appropriate muscles. There will be several points of injections in each treatment area.
Our patients have noted minimal pain during procedures as the needles are very small and thin. If you're concerned about pain, please let us know when you arrive. We can apply topical numbing cream and/or cool packs before Filler, Sculptra, and Contouring injections. A cool pack is also provided after all injection treatments and can be taken home.
What should I know before my first appointment?
The Texas Medical Board requires an annual "good faith exam" to be completed by a nurse practitioner or doctor before receiving any treatment where a needle will pierce the skin. We will check our records when you book the appointment and schedule a free, virtual clearance if a current clearance isn't on file.
Please review the pre- and post-treatment instructions located in your patient portal at least a week before your appointment as certain medications and alcohol should be discontinued before treatment. With all injections there is the potential for swelling and/or bruising, so consider scheduling these around special events.
How soon will I see the results?
Cosmetic Neuromodulators
Results take a full effect within 10 days of your treatment. It's a quick procedure with little to no downtown. Results typically last 3 to 4 months.
Dermal Fillers/Bio-stimulators
Results from fillers can take up to 2 to 4 weeks to fully set in depending on the treatment area and injection site. They last anywhere from six to 15 months, depending on a variety of factors, including how quickly your body metabolizes them.
Optimal results with the bio-stimulator Scupltra® are typically seen six weeks after the second procedure. Results can last up to three years if you receive an annual maintenance treatment.
Speak with your injector to outline a plan based on your body's response.
Contouring Injections
Results can take up to 4 to 6 weeks for the acid to do its work in the body. Patients typically have multiple treatments a month apart. Your injector will customize a plan of action based on your body's response. A complimentary consultation is required before your first treatment.