INMODE DIOLAZE XL
What is DiolazeXL?
A hair removal solution offering peak power with optimal speed. Designed with state-of-the-art diode lasers, the DiolazeXL offers patients the most effective hair removal treatment. The pigment of the follicles will absorb the light, causing them to be destroyed.
DiolazeXL has built-in safeguards to ensure that all sessions are comfortable and relatively pain-free. DiolazeXL targets course and stubborn hair, up to skin type VI.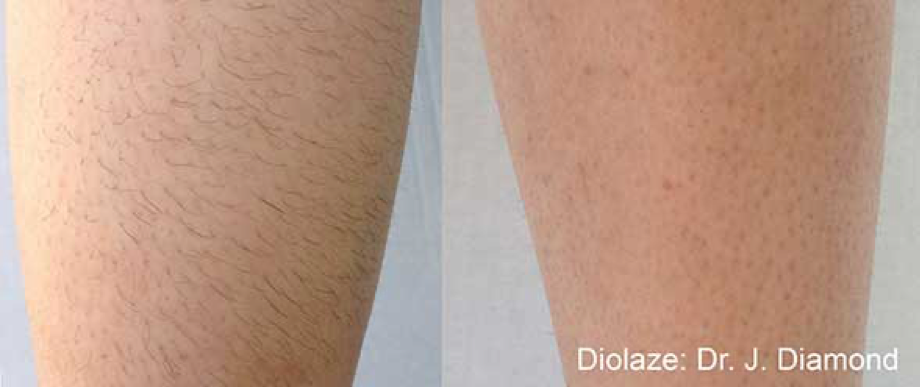 The large treatment surface of the DiolazeXL efficiently and effectively removes leg hair in four to six sessions.
Post-treatment
Immediately after treatment, you can expect some mild redness to your skin and the sensation of heat. This redness usually lasts 2 to 24 hours.
5 Things To Do Before Your Laser Hair 
Removal Treatment 
1. Stop Plucking and Waxing
Laser hair removal works by targeting the roots of the hair, so it's essential that you don't pluck or wax the treated area at least four to six weeks prior to your first appointment. Shaving is okay, as it leaves the root in place.
2. Shave the Area
Shaving the area 24 to 48 hours prior to your appointment is required. Even though your hair is invisible to the naked eye, the laser is still able to target the pigment located in the hair's root. Shaving the area is essential as it severely decreases the chance of burns with the hair being below the skin's surface.
3. Avoid Sun Exposure
For two weeks before your laser hair removal, the skin being treated must be kept out of the sun. This includes both tanning beds and self-tanners. Not only can their sue lead to skin discoloration after your laser treatment, but sunburn can cause excessive pain and blistering.
Most laser professionals won't even treat a client with a minor sunburn and will have them reschedule their appointment. So, be sure to use sunscreen daily if the treated area can't be covered while outside.
4. Put Down the Bleach
Laser hair removal works by targeting the root of hairs. Your hair pigment or color can be found in the root and absorbs the light produced by the laser, ultimately destroying the hair permanently. When you bleach your hair, it alters the pigment and makes the hair more difficult to target. Stop bleaching six weeks prior to your laser hair removal treatment. This provides enough time for the hair roots to grow back in its natural color.
5. Check Your Medications
When you speak to your laser professional, inform them of all of the medications you're taking, both oral and topical. Some medications can interfere with your laser treatments, making them less effective. Other medications can make the skin sensitive and more likely to burn or blister. Especially inform your laser technician if you are taking antibiotics, birth control, acne treatment, or photosensitizing medications. You don't need to stop taking your medication, but your laser professional will be able to adjust your treatment accordingly and proceed with care. Additionally, if you begin taking any new medications you should let them know prior to your next appointment.
Request a Free Laser Hair Removal Consultation.